CPS 5220 NON-ASBESTOS FIBER RUBBER COMPRESSED SHEET (GASKET)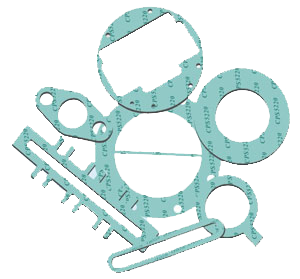 CPS 5220 Non-asbestos sheet gasket, it rolls and vulcanizes the materials of the high temperature resistant synthetic fibers, mineral fibers, special rubber and inorganic fillers.
Temperature: ≤ 250℃ Pressure: 6.4 MPa
Widely used in public works (gas and water), chemical plants, steel mills, oil refineries, power
plants, plumbing and mechanical manufacturing conditions.
ADVANTAGES
Excellent recovery and compressibility
Have the performance of moisture resistance and fluid resistance
Easy to cut
A wide range of medium resistance
---
CPS 5230 HIGH TEMPERATURE NON-ASBESTOS GASKET

CPS 5230 High-performance special fiber reinforced graphite rubber composite material, regarding flexible graphite as filling material, then passing through a special process. It is non-asbestos absolutely. So it is a generation of revolutionary gasket material.
Temperature: ≤ 350 Pressure: ≤ 6.4 MPa
Widely used in the sealing device in petroleum, chemical industry, light industry, machinery, thermoelectric, instruments and meters, automobile industry and other industry. In addition to, it can replace asbestos rubber materials.
ADVANTAGES
Excellent resistance to high temperature performance
Lower stress relaxation rate
Wide adaptability to chemical medium
Easy to cut and shape
The most appropriate softness, easy to install
Scratch resistance, does not pollute the flange surface, good sealing performance
The stock of conventional thick sheet meets the different size of the gasket